Summer Excursions (ages 9-12)
---
Currently postponed due to CV-19. 
Registration for summer programs will be available once more clarity is gained in regards to CV-19. Thank You. 
*all details associated with each program (specifically dates) are subject to change as we navigate the current circumstances.
Waterford City Recreation's Mission: To create recreational opportunities that promote community cohesion and love of recreation while meeting the needs of our community.
Program Mission: To provide outdoor activities for kids to be active, engaged, to develop skills, and have fun.
What to expect: Each week kids ages 9 – 12 will be introduced to a new outdoor adventure to promote an active lifestyle and exercise while learning a little bit more about the outside world; all in a fun environment.
Goal: To encourage kids to continue to participate in outdoor activities even after the program has ended and continue to live an active lifestyle and having fun while doing so.
STAY SAFE, STAY ACTIVE, and HAVE FUN!
First week: 6/3/20 - Fishing at Arnegard Dam
Second week: 6/10/20 - Ice Caves
Third week: 6/17/20 - Frontier Museum in Williston
Fourth week: 6/24/20 - Teddy Bear Picnic (North Unit)
Fifth week: 7/8/20 - Bowling in Williston
Sixth week: 7/15/20 - Sandy Beach Swimming (Tobacco Gardens)
Seventh week: 7/22/20 - North Unit Activity
(Locations may change as we deal with the effects of CV-19)
Registration is available for each individual week or for all seven weeks.
$5 per excursion or $30 for all seven weeks
For questions email joshuan@roughridercenter.com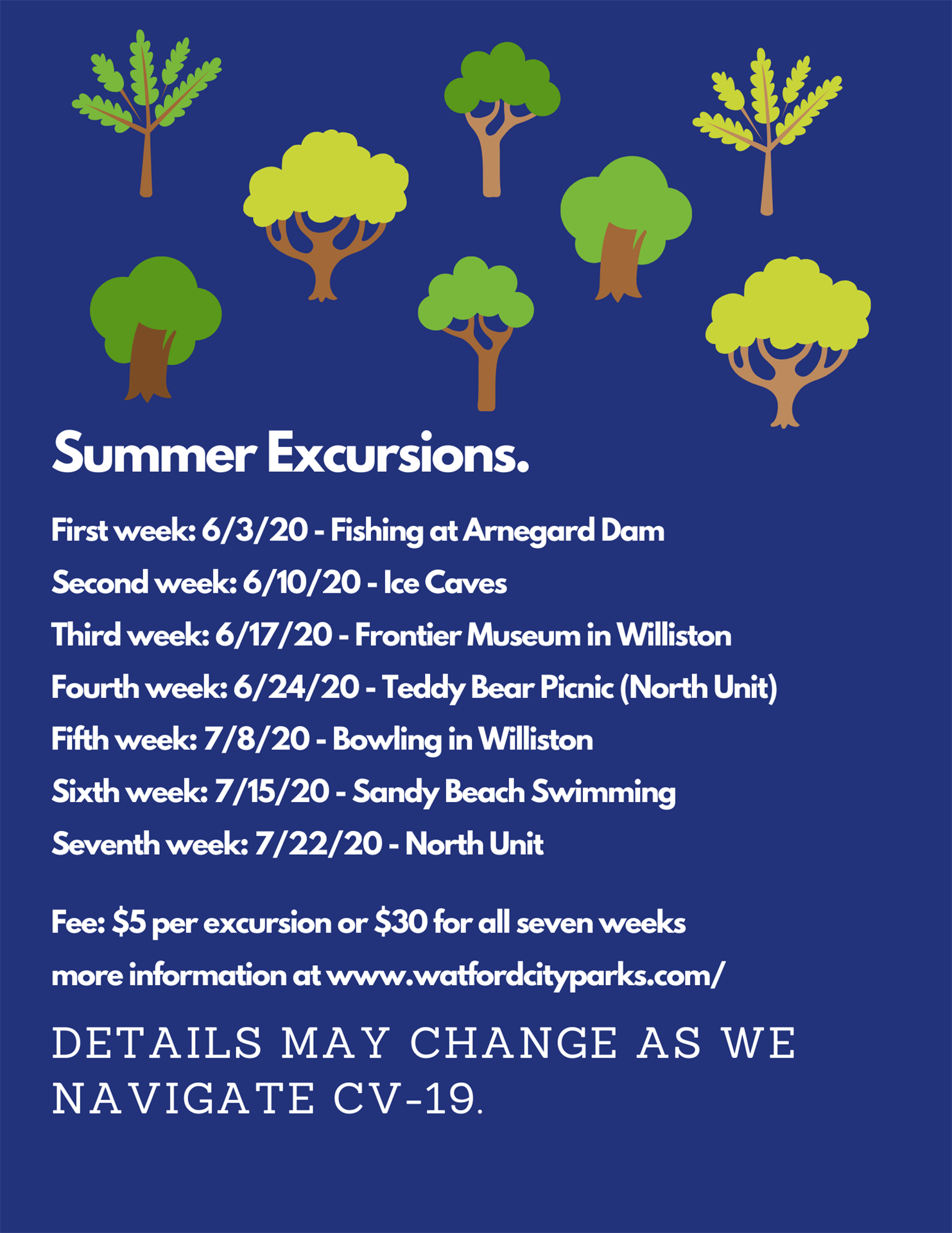 Dates:
Wednesday, Jun 3, 2020 12:30 PM
-
Wednesday, Jul 22, 2020 05:00 PM