Register
Summer Excursions (ages 9-12)
---
Summer Excursions are back! We will have two different 3 day options to sign up for or you can sign up for each excursion individually! So pick and choose what you would like to do!
6/21/21 - Ice Caves
6/22/21 - Sather Dam Fishing
6/23/21 - Heritage Park
7/19/21 - Theodore Roosevelt National Park - North Unit
7/20/21 - Sandy Beach Swimming
7/21/21 - Fort Union
Drop off/Pick up will be at the Rough Rider Center by the baseball field parking lot. Drop off will be at 12:30 PM and we will depart for each excursion promptly at 1 PM. Pick up will be at 5 PM. Please note that pick up time may vary slightly depending on the excursion. We will contact parents if pick up time changes. Each child will be responsible for providing their own sunscreen, bug spray, and water bottle to each excursion. They will also be allowed to bring a lunch/snack as well for the trip to and from excursions. 
LIMITED SPOTS AVAILABLE
Registration is available for each individual days or a 3 day week.
$10 per excursion or $25 per 3 day week.
For questions email krystalw@roughridercenter.com
Scholarships are available. For more information, contact Sara at saraf@roughridercenter.com
Watford City Recreation's Mission: To create recreational opportunities that promote community cohesion and love of recreation while meeting the needs of our community.
Program Mission: To provide outdoor activities for kids to be active, engaged, to develop skills, and have fun.
What to expect: Each day kids ages 9 – 12 will be introduced to a new outdoor adventure to promote an active lifestyle and exercise while learning a little bit more about the outside world; all in a fun environment.
Goal: To encourage kids to continue to participate in outdoor activities even after the program has ended and continue to live an active lifestyle and having fun while doing so.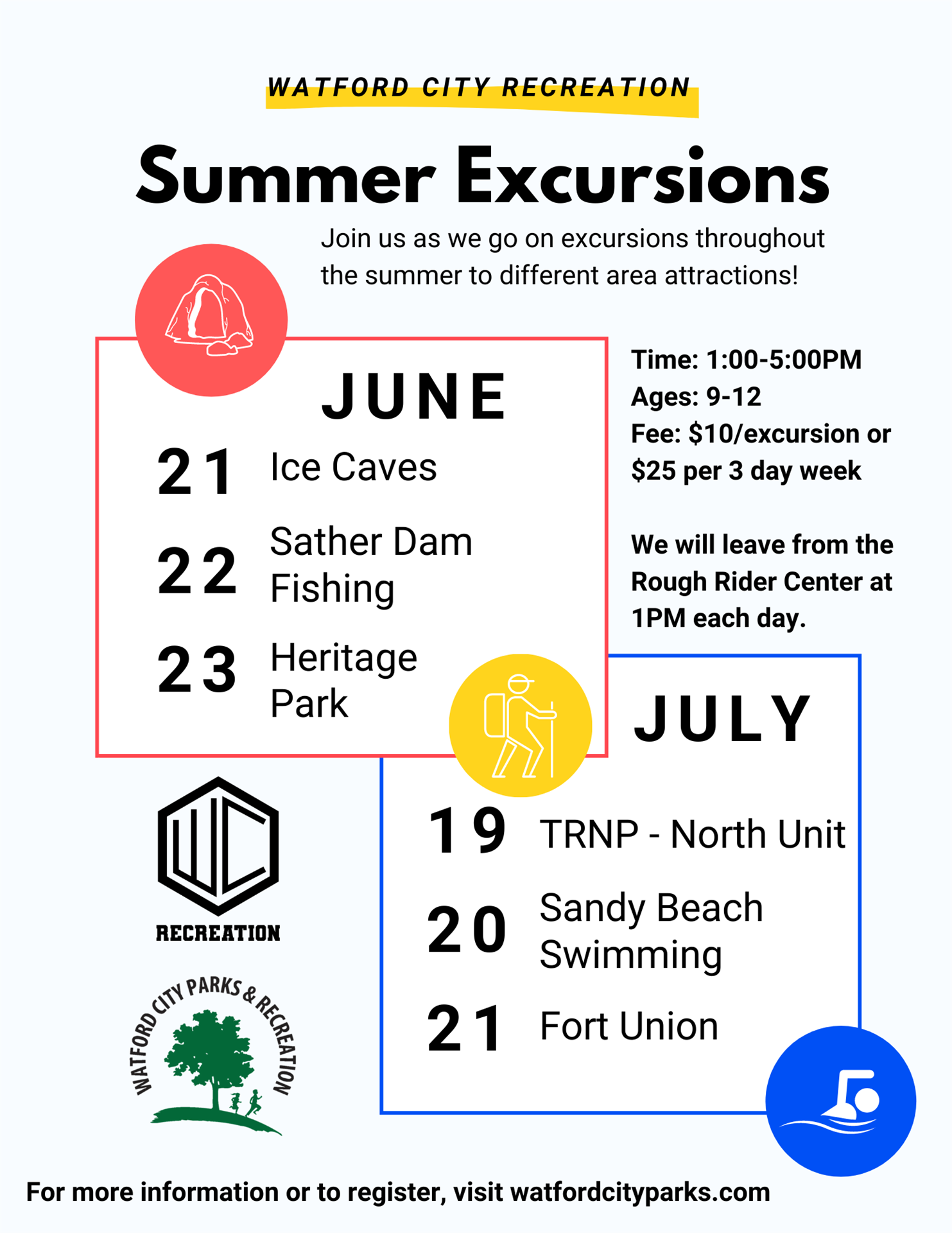 Dates:
Monday, Jun 21, 2021 01:00 PM
-
Wednesday, Jul 21, 2021 05:00 PM