Co-Ed Adult Volleyball League
---
Sunday Nights
Competitive and Recreational Divisions
4v4 Game format
Starting at 6:00PM
Ages 18+
Fee: $140/team
Location: RRC Fieldhouse
Rules: https://dawaplatform.blob.core.windows.net/watfordcityparks-file/Event%2FPrograms-Activities%2FCoed%20Volleyball%20League%20Rules%204v4.pdf
Schedule: https://dawaplatform.blob.core.windows.net/watfordcityparks-file/Event%2FPrograms-Activities%2FFall%202020%20Schedule.pdf
We have made a couple changes to the league this fall. We will have two divisions: Competitive and Recreational. We will also be playing 4v4.

Why the changes?
We added two divisions so games can be more fun and competitive for all. If you are wondering which division to sign your team up in, think of these general questions: Are you looking to have fun and stay active with friends? Join the recreational division. Are you looking for a rewarding and fun outlet to combat your competitive itch? Join the competitive division. If you still are questioning what division to sign up for, email or call us and we can help you out!

We are changing to 4v4 to hopefully generate more teams to give you all more variety of teams to play throughout the league.
Email krystalw@roughridercenter.com with any questions.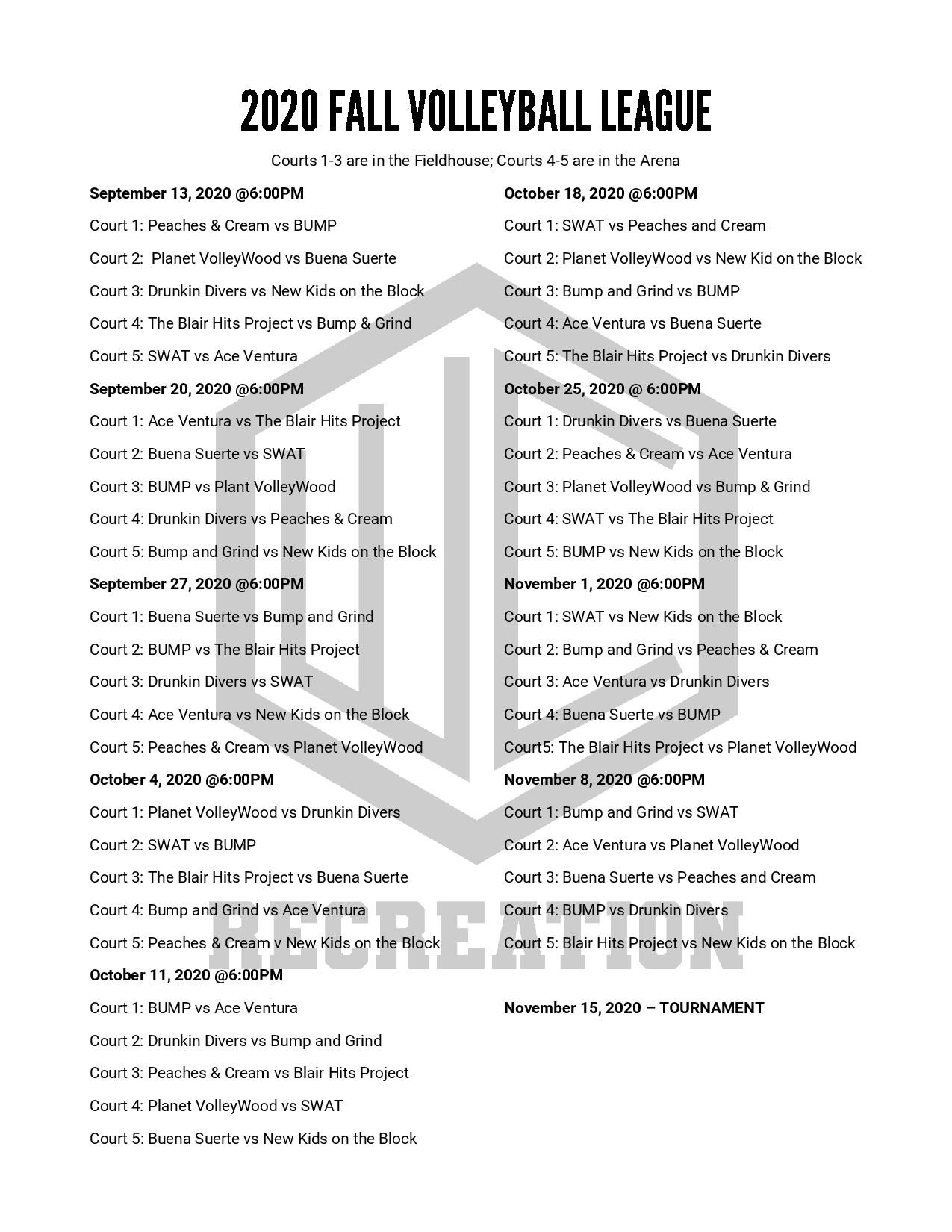 Add To My Calendar

Times

Sunday, September 13, 2020

6:00 PM

-

9:00 PM

Sunday, September 20, 2020

6:00 PM

-

9:00 PM

Sunday, September 27, 2020

6:00 PM

-

9:00 PM

Sunday, October 4, 2020

6:00 PM

-

9:00 PM

Sunday, October 11, 2020

6:00 PM

-

9:00 PM

Sunday, October 18, 2020

6:00 PM

-

9:00 PM

Sunday, October 25, 2020

6:00 PM

-

9:00 PM

Sunday, November 1, 2020

6:00 PM

-

9:00 PM

Sunday, November 8, 2020

6:00 PM

-

9:00 PM

Sunday, November 15, 2020

6:00 PM

-

9:00 PM