Register
Babe Ruth Baseball
---
Fee: $200
Scholarships Available! Contact the RRC at (701)842-3665 for a scholarship form.
Registration Deadline: May 9
Age: 13-15 Must be age appropriate by May 1st. The age chart can be found here at https://www.baberuthleague.org/league-resources/baseball-age-chart.aspx. This will give direction on what program to register for. 
Dates: Exact dates coming soon
Schedule: Coming soon
Refund Policy: https://dawaplatform.blob.core.windows.net/watfordcityparks-file/Event%2FPrograms-Activities%2FRefund%20Policy%20current.pdf
Communication: We ask that you register with an accurate and up to date email as we communicate during this program. 
Social Media: Like us on Facebook at https://www.facebook.com/wcpr1/?eid=ARARiBwQtGrqp-GjhsNIorJMp0NAIoVOQRO1quw1DbqSIc6Rq4Dei8odwTv65CAMr8fcw_yRHWe5_AIE and Instagram at https://www.instagram.com/wcparksandrecreation/ for additional information. 
Success = Process
Watford City Recreation's Mission: To create recreational opportunities that promote community cohesion and love of recreation while meeting the needs of our community.
Program Mission: MISSION STATEMENT OF BABE RUTH LEAGUE, INC. The Babe Ruth Baseball/Softball program, using regulation competitive baseball and softball rules, teaches skills, mental and physical development, a respect for the rules of the game, and basic ideals of sportsmanship and fair play.
What to expect: The Babe Ruth baseball program is designed to offer a program for kids that wish to extend their baseball experience past the age of 12. This program provides a fully encompassing baseball season and prepares kids to continue to advance in their baseball careers. Travel is required and 20+ games will look to be played. 
Goal: To help develop sport specific skills, life skills, keep kids active and engaged, and to have fun.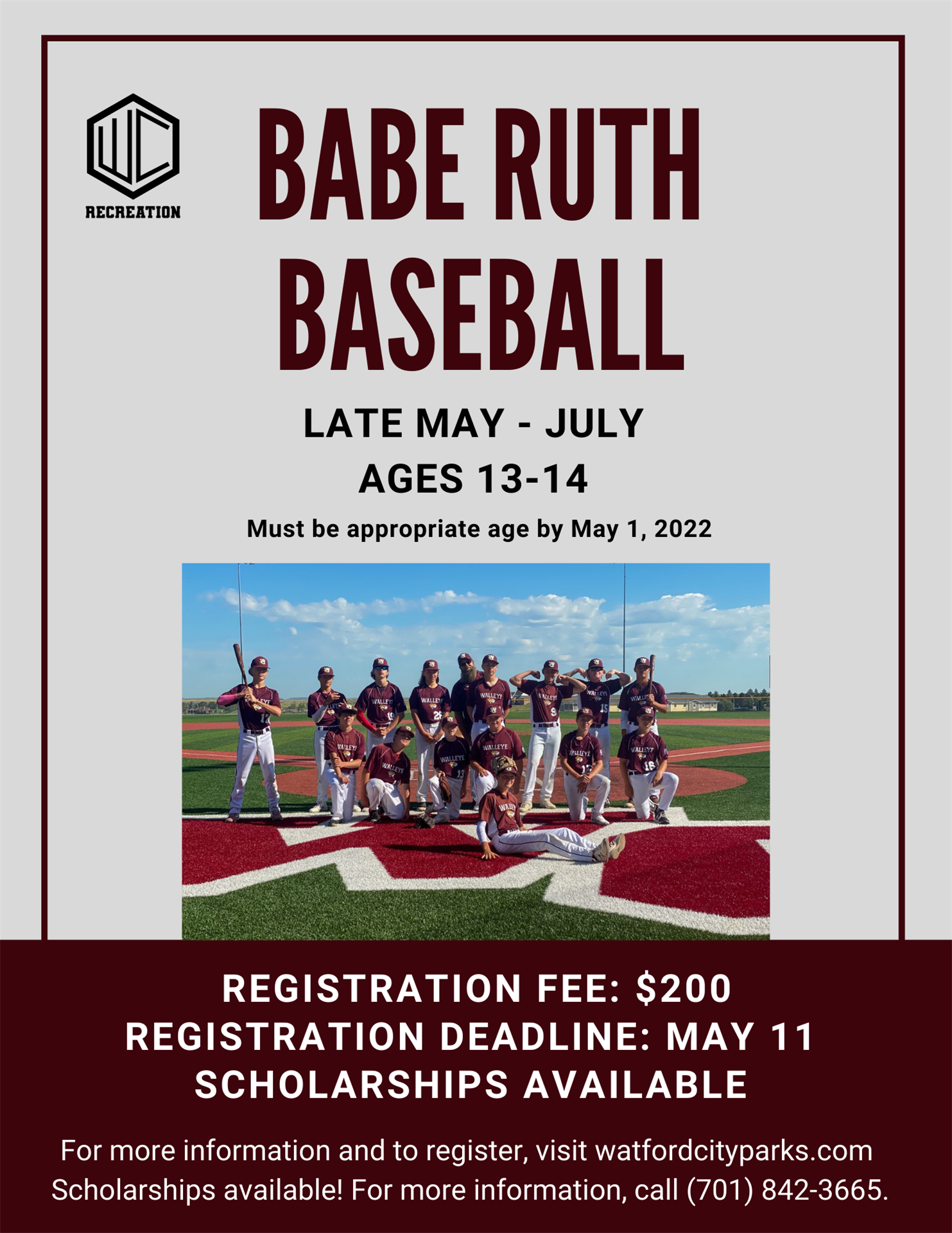 Dates:
Monday, May 17, 2021 12:00 AM
-
Saturday, Jul 31, 2021 12:00 AM